Product Training
GROEBNER offers flexible training to prepare natural gas workers for safe on-the-job performance, in the classroom or on the job site, taught by certified, knowledgeable staff – ISNetworld members, EWN certified trainers, MEA training materials, manufacturer trained (McElroy / GFCP / MTD / Lyall / etc.).
While learning about natural gas as a whole, your operators will go through hands-on training with the equipment, materials, and processes that are meaningful to their daily operations. Our team makes certain that your operating staff understands how your equipment works at its peak performance.
Our courses can be designed to meet your company's precise requirements and with each course, our students receive documentation of their training. Our courses consist of topics such as: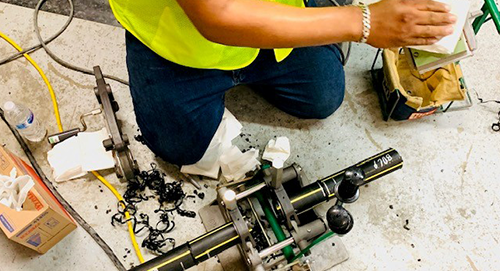 Operator Qualification (OQ) Program
Classroom Instruction | Hands-on Training | OQ Testing | Certification
GROEBNER's OQ training program provides pipeline operators the training and qualifications required to perform the necessary work on our pipelines.
Complete qualification documentation and record keeping is given upon successful completion as required by DOT.
Working with Natural Gas 101 Course
This course provides a foundation to build off from by introducing the history of natural gas, its properties, and gas transportation.
PE Heat Fusion Course
This course covers the theory of heat fusion, types, and procedures with hands-on training.

Butt fusion (manual and hydraulic)
Sidewall fusion
Socket fusion
PE Electrofusion Course
This course covers the theory of electrofusion, types, and procedures with hands-on training.

Couplings
Tap tees
Branch saddles
Leak Detection and Locating Courses
These courses cover an introduction and procedures with hands-on training.

Combustible gas indicators (CGI's)
Pipe and cable locators
New Product Training
GROEBNER offers product training on all the equipment we sell from new product education to on demand refresher classes.
Contact us today to learn how GROEBNER's training program and courses can meet your requirement needs and help improve your operations while keeping rework costs low.