Technical Training
Operator Qualification — Safe, Trained Workforce
GROEBNER Technical Training, LLC (GTT) is GROEBNER's go-to partner to offer your company an end-to-end solution for dependable, expert natural gas education, safety training, and operator qualification (OQ) compliance. The GTT team's vast experience as members of the GROEBNER team ensures the values of integrity, quality, and service are deeply ingrained in our organization and team.
With the enacting of Federal Code 192 / 195 and recent focus by PHMSA, utilities must have trained and qualified employees to work on natural gas pipeline systems. Our industry recognizes this is particularly important as new generations join the workforce. In addition, natural gas technology continues to develop, requiring new skills and techniques from your team.
GTT helps you meet those requirements with turn-key training and qualification solutions, tailored to meet your own specific needs.
---
What Can GTT Do for You?
The most critical safety component to natural gas systems are the people working on them – knowledgeable and trained crews.
GTT provides personalized, tailored training to prepare natural gas workers for safe on-the-job performance. This includes industry education, skills testing / performance evaluations, and documented operator qualification compliance. Training is the key to bring new hires up to speed or to refresh your team's overall industry knowledge.
Our regionally located evaluators and trainers are fully mobile and can hold classes anywhere. We can also offer bilingual instruction.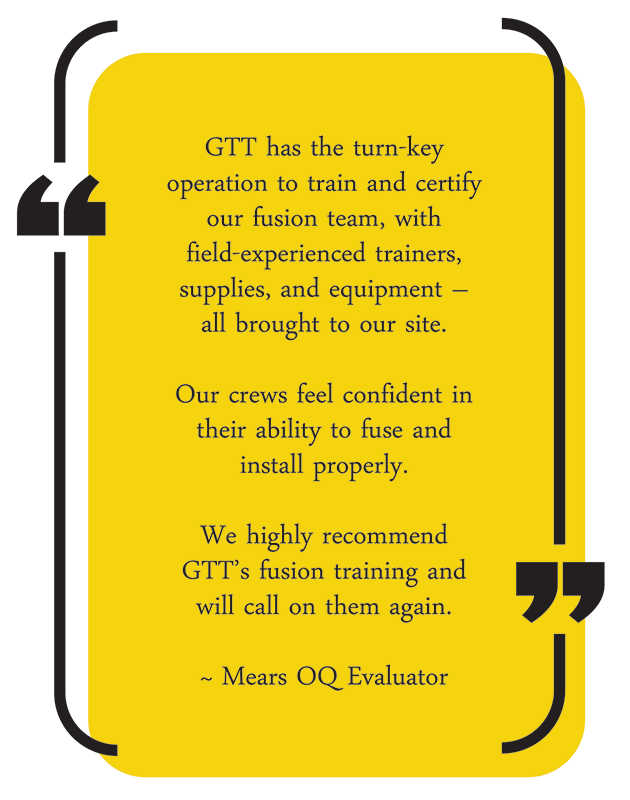 Operator Qualification (OQ) Program
GTT provides third-party services and fulfills the PHMSA industry requirements for qualified pipeline operators. Training, testing, evaluations, and documentation — all are available through GTT's OQ program. Our classes include customized content. We start with federal / ASTM regulations, to ensure your operator qualifications are covered, and then incorporate your company specific internal standards into the training.
Training on OQ tasks, such as:

Line locating, leak detection and investigation
Ditch safety
Damage prevention
Installation and replacement of pipe
Plastic pipe joining – electrofusion, heat fusion, mechanical

Testing is overseen by a proctor to ensure the identity of the test taker and the integrity of the test taking environment.
Evaluations of OQ tasks are completed to qualify the individuals. When needed, GTT has a mobile lab to assess student fusions right on site.
Documentation is stored with OQ providers. GTT is an approved provider for several authorized companies, such as:

Energy Worldnet (EWN)
MEA Energy Association (MEA)
Industrial Training Services (ITS)
ISNetworld (ISN)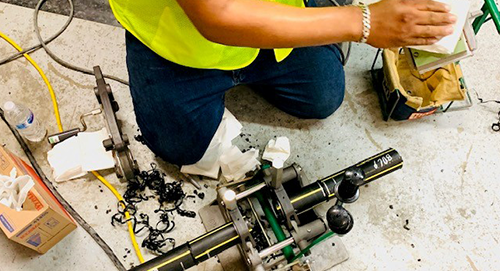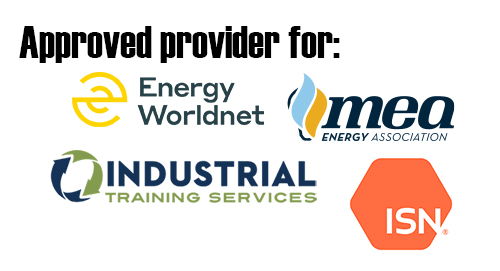 Natural Gas Technical Training
With many different generations working in today's workforce, there is a wide variety of training and education needs. Technology advancements, improved industry practices, and newer materials require ongoing education and training as well.
Tell us where your gap in knowledge is and we can help fill it. Some of our more popular classes are:
Introduction to natural gas (Gas 101)
Tool / equipment operation
Certification classes that support OQ programs
Foreman training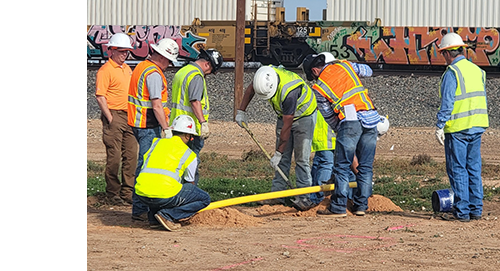 ---
Who is GTT?
GROEBNER Technical Training, LLC (GTT) services are delivered by experienced, trained, and certified members of the national gas industry. Our team consists of people who have worked in natural gas operations, systems management, training, and education. They are certified by EWN, MEA, ITS, and ISNetworld.
GTT's team is dedicated to training. Our knowledge and expertise in the natural gas industry allow us to customize courses to meet the needs of those we work with. Whether basic training or specialized training is needed, we make education in the natural gas industry our focus so you can rely on the latest information for your team's training needs.
Centrally located in Olathe, Kansas, GTT is able to travel to your location, saving you the time and expense of sending your valuable team off-site for training.
GTT is an active member in industry associations such as the American Gas Association (AGA), MEA Energy Association (MEA), Western Energy Institute (WEI), and Southern Gas Association (SGA). This ensures we are on top of the latest developments in the natural gas industry.
---
Contact Us
We are headquartered out of Olathe, Kansas with regionally located evaluators and trainers. For technical training at our location or wherever you are located within the United States, contact us at:
GROEBNER Technical Training, LLC (GTT)
19935 West 161st Street
Olathe, KS 66062
Ryan Ellis
rellis@groebner.com
817-805-7271