Scar-Guard and OVERPIPE provide unique solutions that help solve some of the most difficult challenges on HDD projects and economical ways to prevent third party strikes.
Seal For Life and its associated companies manufacture multiple coating technologies focused on corrosion prevention, fire & temperature protection, and cathodic protection for energy, water, renewables, infrastructure, flooring and preservation applications. Two of their products for keeping your underground pipelines protected include:
---
Scar-Guard® Overcoat
Composite Mechanical Protection for Directionally Drilled Pipelines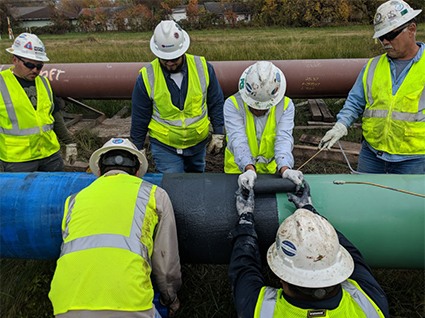 The patented Scar-Guard line of products is designed to protect field joint and mainline coatings from the mechanical stresses and scarring associated with horizontal directional drilling (HDD), boring and micro-tunneling of pipelines. Scar-Guard is a composite abrasion resistant overcoat comprised of fiberglass cloth and pre-impregnated flexible resin that is activated by water and cured within minutes. This sacrificial outer laminate system protects preapproved anticorrosion field joint coatings and mainline coatings such as FBE, liquid epoxies, shrink sleeves, and tapes. The Scar-Guard® line of products minimizes the need for costly repairs after pull back, and provides robust protection of the underlying pipeline coating. U.S. Patent #8522827
Bury, Bore or Drill with Confidence
Provides unparalleled protection against impact, abrasion, gouge, punctures and tears that may result from directional drilling, rough handling, native backfills or severe in-service conditions
Cure Options for any Environment
Fast cure, slow cure, UV-Curable, UV-Resistant – all available options to suit a wide range of project cycle time requirements and construction conditions
Non-Shielding
Suggested voltages for high-spark voltage testing as per NACE SP0188 pass through Scar-Guard to ensure the anticorrosion coating can be tested for integrity after pull-through and protected for the lifetime of the asset
Fast, Easy Installation
Scar-Guard products are simply wrapped onto the existing coatings surface and activated by water. Pre-impregnated moisture cured polyurethane resin means - no field mixing or saturation required!
---
OVERPIPE® Protection Plates
Protection Plates for Underground Pipeline Networks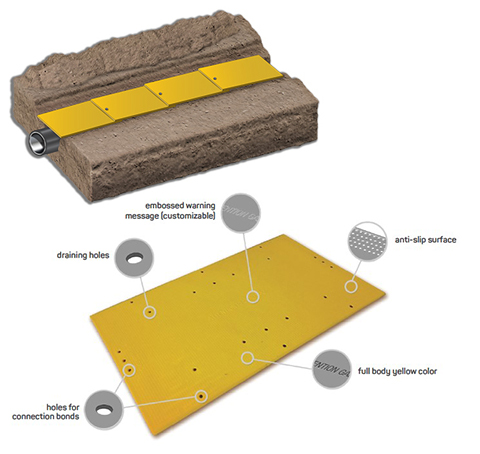 Designed to protect underground utilities from third-party damage and offer a reliable, economic and environmentally friendly alternative to concrete slabs or steel plates. The plates are strong enough to withstand the impact from a 32 ton excavator and are reusable. Lightweight and easy to install, OVERPIPE plates can be easily removed to allow inspections or repairs.
The OVERPIPE plates are made of injection molded HDPE with the following features:
Perforated surface (less than 1% of total surface) to allow for the flow of water. These perforations come from the molding process. Holes from manual drilling will weaken the plate.
Does not disrupt cathodic protection currents or interfere with pipeline locating equipment.
Beveled edges and non-slip pins on both sides to facilitate handling and avoid slip and fall accidents.
Full body yellow color provides an effective warning signal to prevent third-party damage. Different colors are available depending on the nature of the network.
Fully customizable embossed warning message, available upon request.
OVERPIPE plates come in various dimensions to fit with the pipe diameter and to provide extra width on the sides. The plates are assembled by superposition (4 inch overlap) or by juxtaposition and are linked by HDPE clips or connectors to prevent the plates from moving during the backfill process.