The Fusion Hall of Fame is an industrywide recognition of those who have made significant impacts in the thermoplastic pipe industry - Chuck Groebner, Class of 2021!

McElroy's Fusion Hall of Fame was created to recognize the development and acceptance of fusible plastic pipe and the advancements that the industry has seen over the past 50 years. The Fusion Hall of Fame recognizes those people whose contributions have been particularly notable and whose impact and influence on the industry lives on today.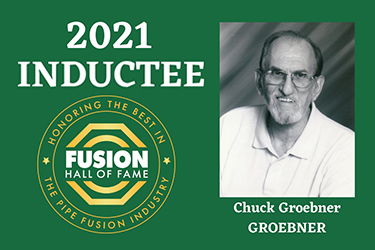 Read about Chuck Groebner - Class of 2021!
Setting the Stage for Success
Serving the needs of the gas industry and supporting utilities was in Chuck Groebner's blood from the very beginning. He began his career in 1952 selling in-home incinerators to natural gas companies. Essentially turning domestic trash into natural gas. This gave him the foot in the door that he needed for what became a successful career in the natural gas industry.
Throughout the 1960s as a manufacturers' representative, he expanded his line of products serving the natural gas business. It wasn't until 1976 that he created his own company, Groebner and Associates, Inc. His vision for this new company was to partner with the natural gas utilities and contractors and enhance their success through hard work, honesty, and great customer service.
With many years already invested in the industry, Chuck's solid reputation preceded him. He was a man of integrity and highly respected for taking care of the customer.
Creating the Perfect Partnership
Up until the 1970s, many areas of the country were reliant on oil for their heating. It was the advent of polyethylene pipe that made it feasible to run gas to homes and businesses. This new infrastructure had lower installation and maintenance costs. Chuck saw this as an opportunity because there were no companies distributing the pipe or the machines to put it together. It was the niche he was looking for! Chuck took the lead in setting up distribution arrangements.
GROEBNER recognized the need for support, education, and even training as these utilities began utilizing contractors to build out these thermoplastic distribution systems. As a result, GROEBNER brought education and training to the utilities to help them integrate PE and properly use the equipment to fuse the pipe.
During the 1980s, Joe joined his father in the business and soon, Chuck embraced the idea of being a distributor. Not only would GROEBNER be responsible for training and servicing equipment but now they would also have a supply of inventory to help them better respond to increased customer demand for local inventory.
Sustaining a Solid Footprint in the Gas Industry
Once Chuck established a distribution arrangement within the gas industry, it was his hard work and dedication to building long-term relationships that made a lasting impression. He knew all the department heads in his territory by first name and strived to treat everyone in an organization with respect, regardless of their title. Even today, customers tell stories of how Chuck worked with them as young operations people and how meaningful it was for them to receive that level of respect so early in their careers.
It was those relationships and Chuck's tenacity that allowed GROEBNER to play a big role in converting the gas utilities from socket fusion to butt fusion.
Throughout his career, Chuck was active in many industry trade associations, including the Distribution Contractors Association, American Gas Association, and American Public Gas Association. He was also very involved in the (MEA) Midwest Energy Association and was inducted into the MEA Hall of Fame in 2002.
Chuck was one of a kind, always striving to offer solutions to his customers' challenges, if he didn't have access to the necessary products, he went out of his way to help, even if that meant sending them to the competition.
From Chuck's original vision, he wanted to partner with the natural gas utilities and their contractors to enhance their success. He created a culture at GROEBNER of integrity, quality, and service in all their business interactions. Chuck believed in building for the future and would often say that manufacturers and products may come and go, but GROEBNER is here for the long haul so we must take care of our customers at all levels.