Our GCS team focuses on tailoring our service and product offerings in a way that specifically meets our contactors' needs.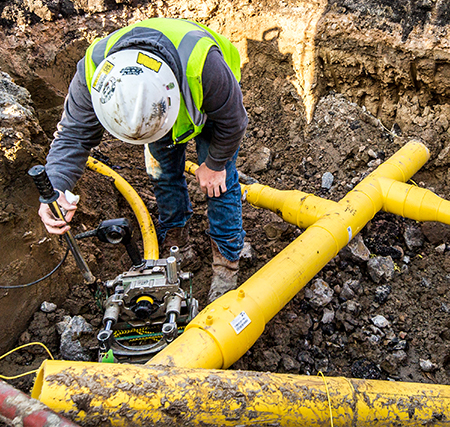 As a contractor, you need reliable sources to fulfill your natural gas pipeline needs. Whether it's materials, tools, or other services, you have to work with a supplier network that understands your needs and meets your deadlines.
Through our over 45 years in the natural gas industry, GROEBNER has developed a network of experienced suppliers that offer top-of-the-line products and services, specifically designed to meet contractor needs. In addition to the territory managers that support our sales areas, GROEBNER also offers a division that focuses on you, the contractor – GROEBNER Contractor Solutions (GCS).
The GCS team specializes in making sure your contractor needs are satisfied. We have established a network of suppliers, trainers, and other specialist that are responsive, ensuring the prompt turn-around times you need. We also stock commonly needed materials at our four warehouses throughout the central U.S. We can help you mobilize your crews quickly with equipment and materials to keep your projects on track and profitable.
When our repeat contractor customers reach out to us, they talk with a GROEBNER team member that knows them. Our in-house experts not only provide knowledge of our customers' background, but can offer alternate solutions to ensure timely responses for you.
GCS Offerings
GROEBNER Contractor Solutions focuses on the situations contractors find themselves in and tailor our service and product offerings in a way that specifically meets our contactors' needs. These include:
Tool and equipment sales

Shopping lists
Tool/truck kitting
Maintenance and inspection programs

Project material sales
Fusion and electrofusion equipment rentals
Training by certified instructors
DBE affiliate partnership opportunities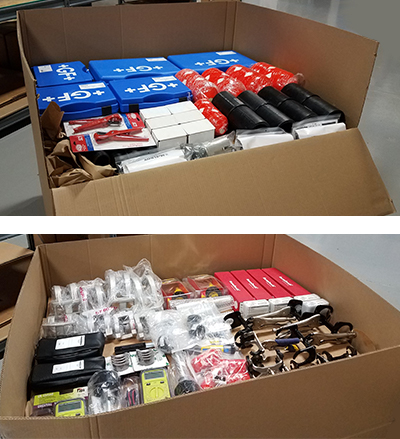 We also offer contract pricing to our ongoing contractor customers. Let's take a closer look at each of these categories.
Tool and Equipment Sales
GROEBNER works with top-of-the-line tool and equipment suppliers. This includes heat fusion and electrofusion tools, hand tools, and personal protective equipment. Our vendor network is a long-standing, carefully selected team of industry-leading companies. Your needs for natural gas utility projects will be fulfilled with the best tools and equipment available. And if you have a very specialized tool requirement, GCS can help you with custom tool design and manufacture.
GCS also offers services to ease the outfitting of your field teams. We utilize tool shopping lists for effortless ordering, and provide tool/truck kitting opportunities where we work with you to determine exactly what you need, pull it together in a single, fully labeled kit, and ship it to you – ready for your field teams' use.
GCS offers tool maintenance and inspection programs, making certain your tools are in good working order, within factory specification, and documented with inspection information. With services provided in our facilities or at your site, our program helps prevent costly down-time in the field. We help ensure that your tools and equipment are functioning properly and certified to industry standards.
Project Material Sales
The GROEBNER network of suppliers means you have access to a wide assortment of natural gas project materials and the latest in industry technology. Our GCS team will help you select the material you need – pipe, fittings, valves, meters, regulators, instrumentation, repair materials, and more. We'll source and price project materials from the initial project plans and keep the project on schedule with timely delivery as the project takes off.
Fusion and Electrofusion Equipment Rentals
Installation of natural gas pipelines requires the right equipment all throughout the process. However, additional unexpected projects or equipment breakdowns can pop up so rather than hold expensive equipment in your inventory, the GROEBNER rental equipment program gives you access to the machines you need, just when you need them. Our GCS team focuses on contractor timing and requirements to help you rent top-of-the-line equipment, perfect for your project.
Training by Certified Instructors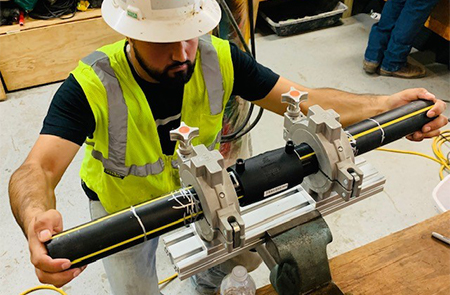 The natural gas industry requires more training and qualification than ever before. With GROEBNER's 45 years of experience, we have the industry knowledge and certification needed to offer you and your employees the training they will require to perform critical and qualified tasks safely and efficiently. We can help your employees – new and experienced – with general industry knowledge, product applications, technical skills evaluation, or operator qualification. Our trainers are properly certified, experienced, and ready to help your teams grow. And training is available either at your sites or in our office locations, so you can choose the most efficient and cost-effective method for your team.
DBE Affiliate Partnership Opportunities
GROEBNER's vendor network includes strong partnerships with DBE certified businesses. These vendor partners are selected, first and foremost, for their expertise in the natural gas industry. But their DBE certification also gives you the opportunity to enhance your supply chain diversification, as well as increase your competitive advantage in the market. Our GCS team will help you meet your diversity spend goals by utilizing the right DBE partner to fit your business needs.
GROEBNER's Contract Solutions Team is Here for You
GROEBNER takes great pride in meeting the needs of those working in the natural gas industry. We have 45 years of working with suppliers and customers with integrity, quality, and excellent service. This gives us the unique ability to work with and understand the special needs of our contractor customers. Our GCS team focuses on contractors, ensuring you receive the products you need in a timely manner and the services to develop your business. Let us help you today – contact us at 800-638-8322 / sales@groebner.com. We're eager to partner with you to keep your natural gas contractor business going strong.