For efficiency and safety's sake, it's extremely important that you have the right equipment when fusing natural gas pipeline.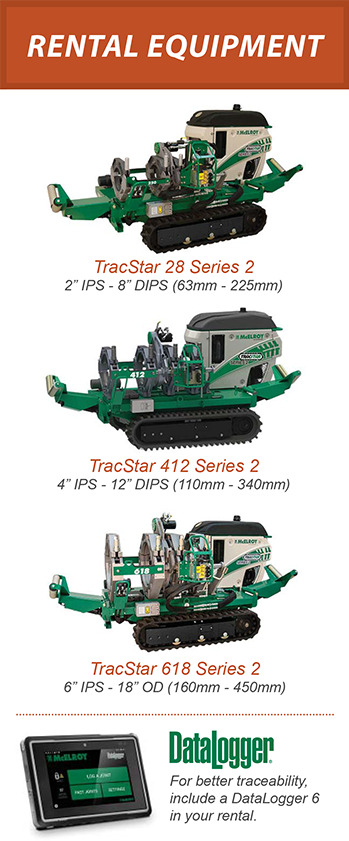 For efficiency and safety's sake, it's extremely important that you have the right equipment when fusing natural gas pipeline. Whether installing new systems or repairing pipe in the field, top-of-the-line fusion equipment is your best guard against future pipeline difficulties.
But having topnotch equipment sitting in inventory can be expensive, if you're not using it every day. Sometimes a job comes up and you have the crew to do the work, but not the extra equipment to get it done. Or there are times when your equipment breaks down, but you need to keep the job moving forward.
Here's where GROEBNER's rental program comes in. Our rental program can be your equipment back-up, for whatever needs your system has. We can offer you the right equipment, right when you need it – and you can just return it when the project is done.
GROEBNER is proud to offer McElroy Manufacturing's TracStar®, a self-contained fusion vehicle, including all necessary electrical equipment, inserts, and pipe stands. Each TracStar model has a fusion carriage mounted on rubber crawler tracks and is self-propelled. These vehicles can move easily across rough landscape and grades up to 30%. These are all newly redesigned machines – you'll be getting the most current equipment that McElroy has to offer. All the designs utilize a new cowling design that aids in heat dissipation. They also have updated electrical systems, which increase circuit protection and have a standard battery disconnect, for easy lockout for safety. All of these units are automated machines, which will walk your operator through every step of the fusion process.
GROEBNER offers three sizes to encompass a wide variety of pipe sizes. The TracStar 28 Series 2 is designed for fusions from 2" IPS to 8" DIPS. The TracStar 412 Series 2 handles fusions on pipelines from 4" IPS to 12" DIPS. And we offer the TracStar 618 Series 2 for pipe from 6" IPS to 18" OD. With each machine, you will receive the appropriately sized inserts and pipe stands, as well as the needed hydraulic extension hose.
Our rental program also offers you the option of renting McElroy's DataLogger 6, their latest in data collection technology. With a simple barcode scan, the DataLogger 6 allows you to collect data from plastic pipe fusions, as required by ASTM F3124. This scan automatically fills your data system with pipe material, size, manufacture date, and lot number. The user can quickly add operator and machine information, along with the GPS location of each joint. Adding the DataLogger 6 to your rental order ensures you'll have real-time, complete data collection and accountability.
McElroy is an industry-leading manufacturing firm, with more than 60 years of industry experience. McElroy designed its first polyethylene fusion machine over 40 years ago, working with some of the largest petroleum companies in the country. They are dedicated to innovation, accountability, and integrity in all their dealings. GROEBNER is confident we are offering you the best in rental fusion equipment when we offer you McElroy equipment.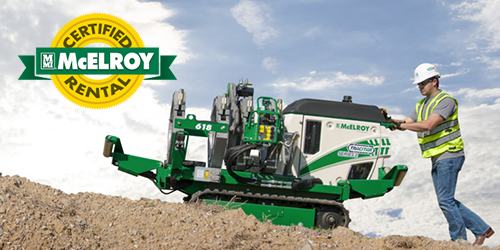 McElroy has a long tradition of standing behind its products and they have developed programs to help their representatives meet that same quality standard. Through the Certified McElroy Rental program, we, at GROEBNER, use only genuine McElroy parts. We also have on staff a factory-trained team that adheres to a strict set of maintenance requirements. Your rental equipment will come to you operating in peak condition.
GROEBNER staff are also certified by the McElroy Master Mechanic program. Our Master Mechanics have completed all McElroy's training courses in troubleshooting, rebuilding, and maintenance techniques for the TracStar equipment. Upon completion of these courses, our mechanics have passed an exacting skills assessment, to ensure they can provide outstanding service and maintenance on your McElroy rental equipment.
GROEBNER is also a McElroy Authorized Service Center. This means we offer a complete line of McElroy products, along with certified service, training, and product support. We are committed to renting you well-maintained, ready-to-use equipment for less down time and greater productivity. That's our promise to you.
To arrange for your equipment rental today, call 913-384-1510 or e-mail us at sales@groebner.com.