Get to know the team that leads GROEBNER and the newest family shareholders.
Get to know the team that leads GROEBNER and the newest family shareholders.
The story of GROEBNER started in 1976, when Chuck Groebner founded Groebner & Associates, a manufacturers' representative firm catering to the needs of natural gas utilities. Already a well-known and trusted figure in the industry, Chuck built his relationships with supply chain providers and customers with an eye on integrity, quality, and excellence in service.
Chuck's son, Joe Groebner, joined the company in 1980. They worked together to broaden GROEBNER's story by expanding from its original one-man show to a strategic sourcing partner with four distribution locations and a team spread across the country. To ensure our family of customers has a dependable network for the products and services they need, GROEBNER extended beyond only sales and stocking into training, repairing, and rentals.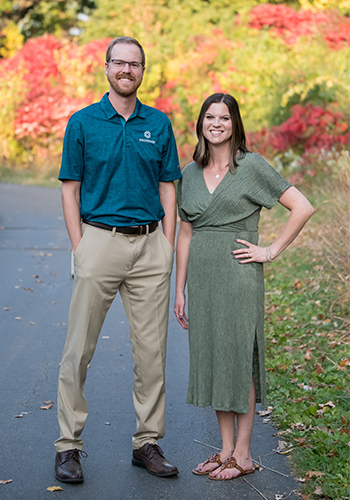 The GROEBNER story continues as one of commitment to ongoing service to the natural gas industry. Part of that dedication is indicated by a company leadership and ownership transition. Last year, our 45th in the industry, GROEBNER started a new chapter by transitioning leadership to the third generation. Joe's daughter, Carissa Skorczewski, entered the role of President in 2021, and, in 2022, became majority shareholder. Joe's son, Curt Groebner, serves as Vice President of Finance. Joe moved into the position of Chairman, ensuring his years of expertise continue to inform the growth of the company and team, business partners, and customers. This transition will help ensure that GROEBNER can continue to grow to meet your needs.
"It's very rewarding to carry on the strong legacy of my grandfather and father," Carissa says. "Working with the whole GROEBNER team to continue our values of integrity, quality, and service allows me to keep the success alive for GROEBNER and all our working partners."
Progressing to this third generation of leadership was not undertaken lightly. Both Carissa and Curt started their own stories by building careers with other firms. As a family, the Groebners frequently discussed the business and the natural gas industry. In those conversations, Joe encouraged both his children to gain experience outside the family business. The ongoing dialogue helped both Curt and Carissa understand how their individual careers could later benefit the company and the industry.
Carissa earned a Masters of Business Administration from the Carlson School of Management at the University of Minnesota. Before that, she obtained a Bachelors of Arts in Marketing and Spanish from Concordia College in Moorhead, MN. Her career background is in strategic planning, product management, and marketing. It has also afforded her strong experience in large firm/business network establishment and maintenance. Her personal career progression moved steadily into increasing leadership roles and responsibilities. At a major MN firm, she held ultimate responsibility for developing strategic growth plans and leading cross-functional teams to ensure financial results and project success. She can leverage her experience developed skills for GROEBNER and our family of customers and suppliers.
Curt acquired a Bachelor of Arts in Accounting (with Minors in Management and Computer Science) from St. John's University in Collegeville, MN. He is a Certified Public Account, an active certification. In eight years of public accounting, Curt provided tax, accounting, and financial advisory services to hundreds of different businesses. This has given him a well-rounded perspective on strategic financial planning and tax compliance. He has also developed a strong, broad network of business relationships and resources, which he can now use to support GROEBNER.
Even before Carissa and Curt brought their own expertise to GROEBNER, they and Joe (along with the rest of the leadership team) had begun working with a family business consultant to determine the best succession plan for the company. Working with the consultant has helped GROEBNER manage the changes that not only result from the generational transition, but the changing story of the industry and workforce. The entire GROEBNER organization is dedicated to the success of our business network family – customers and supply partners. Working with the consultant helps GROEBNER effectively manage organizational sustainability, so we can continue to support our network.
---


Steven Karolewski, Vice President of Operations | Steve D'Amato, Executive Vice President | Joe Groebner, Chairman |
Carissa Skorczewski, President | Curt Groebner, Vice President of Finance | Matthew Dvorak, Vice President of Sales
---
This work with the consultant has ensured that the years of expertise from the whole leadership team are incorporated into the ongoing, growing story of GROEBNER and the natural gas industry.
Steve D'Amato, Executive Vice President – Steve has been with GROEBNER since 1989. In his over 30 years in the natural gas industry, he has been an active association member, holding various committee and leadership roles, and a key contact for our suppliers. His involvement ensures our team is in touch with the latest needs and concerns of the industry.
Matthew Dvorak, Vice President of Sales – Matt joined GROEBNER in 2007, with 13 years of previous experience in the natural gas industry. He has specialized in natural gas distribution, system regulation, and system design. He brings a deep understanding of what gas utilities need to run and maintain a natural gas system.
Steven Karolewski, Vice President of Operations – Sevie came to GROEBNER in 2010, with ten years of operations / distribution experience. As GROEBNER has expanded the services we provide, Sevie's knowledge from the fast-paced retail industry brings new, important perspectives to our operations.
"Our team's strengths allow us all to unite and bring unique synergy to our work family," says Curt Groebner.
Joe adds, "The future looks bright for the entire natural gas industry. This transition to the third generation of leadership, combined with our strong past, means we'll be a valuable part of the natural gas industry story for years to come."
For over 45 years, GROEBNER has been honored to serve in the natural gas industry, through participation in industry associations and supporting your business and utility systems. As she takes the role of President and majority stakeholder, Carissa Skorczewski and her team are committed to continuing advocacy and support for product improvements and availability, technological advances, and expanding roles for natural gas.