Valves are an important component to ensure safety, effortless control, and ease of maintenance. BROEN Ballomax Ball Valves offer you these advantages and more.

As you expand and maintain your natural gas pipeline network, valves are an important component to ensure safety, effortless control, and ease of maintenance. BROEN Ballomax®️ Ball Valves offer you these advantages and more.
BROEN is a global valve manufacturing group of companies, originally founded in Denmark in 1948. They are a leading technology provider in valve technology in natural gas, water, and air. Since 1998, BROEN has been present and supported customers from North America. Their state-of-the-art facility in Houston, TX ensures quick delivery, due to large inventories. They also have a large manufacturing and testing facility, for any valve modifications that customers may require.
Every Ballomax valve is compliant with the API 6D and API 641 standards. API 6D is the globally recognized specification that defines the requirements for the design, manufacturing, assembly, testing, and documentation of ball valves and other types of valves for application in pipeline and piping systems for the petroleum and natural gas industries. Each valve includes a serial number for full traceability. Teflon seats (PTFE), redundant stem-sealing systems, and anti-blow up stem design ensure Ballomax valves are safe and maintenance free.
The full line of BROEN ball valves offers the following advantages:
Long-term 100% tightness and minimum pressure loss on the bore
Circular bore with compact construction
Easy control and reliable, maintenance-free operation, with mechanical and chemical resistance
Flexibility to provide nearly unlimited customization as needed
Cost-effective solutions that beat the competition
For the natural gas industry, BROEN offers three categories of valves – floating ball valves, trunnion mounted ball valves, and polyethylene ball valves. We'll examine each of these groups in more detail.
Floating Ball Valves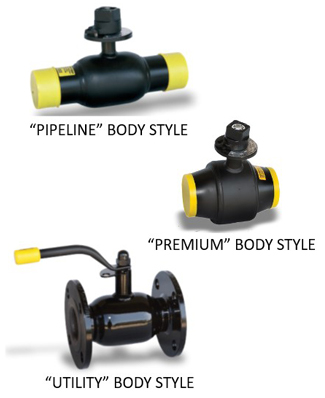 BROEN Ballomax floating ball valves are the best choice when it comes to steel ball valves for natural gas distribution systems. They are designed and manufactured for safety and flexibility, to ensure your pipeline – no matter what type – doesn't leak at the valves. All the floating ball valves feature an all-welded body with no potential leak path. It is made of carbon steel body and 304 stainless ball and stem, a design specifically developed for natural gas use. Sizes range from 3/4" up to 8" and ANSI 150 (285 PSI) up to ANSI 300 (740 PSI). Service temperatures range from -20° F to 250° F. The valves are long lasting and maintenance free.
BROEN has established Ballomax floating ball valves in virtually endless set configurations and customizations to meet all your needs.
Three body styles available, suited to your specifications

Pipeline: the most popular BROEN valve with endless configurations
Premium: extra-strong forged components for higher performance and compact design
Utility: short pattern flanged end ball valve, cost-effective solution for replacements

Ball options: including full or regular port, straight or concave ball
Any end configuration: female threads, weld end, weld end x flanged end, flanged end
Operator options: t-slot, 2" square nut, bare stem, gear operation
Trunnion Mounted / API 6D Ball Valves
Compared to floating ball valves, trunnion mounted ball valves feature a trunnion as an additional support for the ball from the bottom. It absorbs any pressure changes from the flow, so the ball remains consistently in the same position. Stable sealing performance is provided by spring-loaded seats, which reduces the stress on the ball and seats of the valve. This makes trunnion mounted ball valves ideal for high pressure applications, as this design makes the seal independent from the flow/pressure.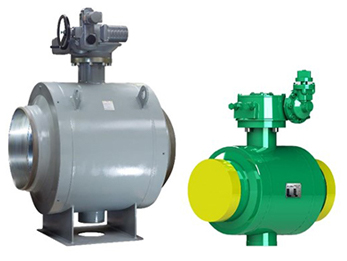 BROEN trunnion mounted ball valves are all designed with a double-block and bleed feature with secondary sealing capabilities and fire safe rating options. These valves are designed to handle the toughest applications.
There are two valve styles within the trunnion mounted valve line. The standard trunnion is a cost-effective solution for large pipelines. It offers the fully welded body design that eliminates potential leak pathways. It is made of carbon steel body and 304 stainless ball and stem. Sizes range from 8" up to 24" and ANSI 150 (285 PSI) up to ANSI 300 (740 PSI). This valve line offers PTFE self-relieving seats. And as with all BROEN valves, they are maintenance free.
With the standard trunnion, you can customize many aspects to meet your specific pipeline needs:
End configurations – weld end, flanged end, weld x flanged
Other customization choices – stem extensions, special coating, pup welding, valve automation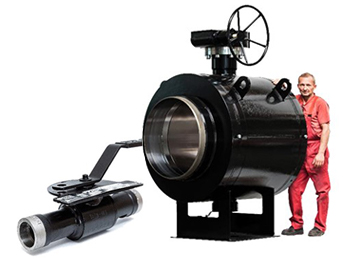 The other trunnion mounted valve BROEN offers is the API 6D Monogrammed/Certified trunnion. This valve is a full-fledged solution for your most demanding valve needs. This style is offered in either a fully welded or a bolted design, dependent on your needs. It is manufactured with a carbon steel body and A350 LF2 + ENP ball. It offers a full port option, with sizes ranging from 3/4" up to 36" and ANSI 150 (285 PSI) up to ANSI 600 (1480 PSI).
The API 6D 6FA Q1 certified trunnion valve seat design has dual seats; primary synthetic with secondary metal fire safe valves can be ordered with either self-relieving or double piston effect seat configurations. Additional features make this style ideal for the most demanding valve applications.
Fire safe
Seat and stem injection ports for lubrication, sealing, flushing
100% full port
Positive stops
Standard horizonal or optional vertical gear operator
Drain and vent ports
Polyethylene (PE) Ball Valves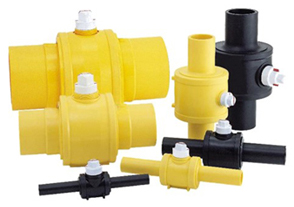 BROEN also offers a full line of injection molded PE valves with the largest port sizes in the industry, for use with PE pipelines from size 1/2" up to 16". Ballomax PE valves feature a rugged and reliable design, meeting or exceeding ANSI B16.40 and ASTM D-2513. There are two choices for materials – medium density (PE 80 / PE 2708, yellow) and high density (PE 100 / PE 4710, black). Service temperatures range from -20° F to 140° F.
BROEN PE ball valves offer you numerous advantages with expanding or maintaining your pipeline network. With no metal parts used in manufacture, there is no corrosion or fluid contamination. The comprehensive size range ensures your ability to use Ballomax PE valves throughout your system. Gear boxes are available for large sizes and extra-long pup ends make for easier tie-ins and multiple fusions.
Customization Capabilities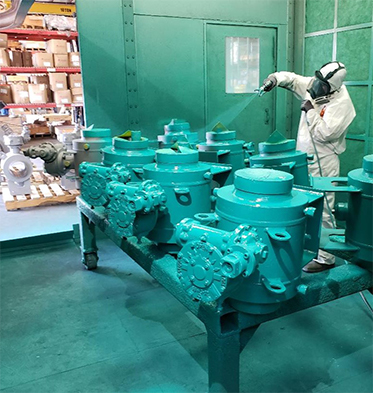 To ensure you have the exact valve you need for your natural gas pipelines, BROEN offers a number of in-house services.
In-house engineering, so they can provide drawings and 3D models for any application
State-of-the-art testing facility, to make certain you receive valves that are 100% tested and meet industry and safety standards
Sand-blasting and specialty coating paint booths, so they can provide any surface prep and coating required for your use
Stem and line extensions in stock, for below grade installations
Installation of gears and valve automation, to ensure your system is running as you desire
Extensive inventory, so you can get the parts you need, when you need them
BROEN Ballomax Ball Valves - the Competitive Choice
Choosing BROEN valves for your natural gas pipeline needs will mean you have the competitive edge. Reliable, maintenance-free operation ensures low costs over the life of your pipeline valves. The depth of products, flexibility and customization of BROEN's valve line allow you to find the exact valve you need right when you need it. And the cost-effective solutions BROEN offers mean you can keep costs of pipeline expansion low.
Learn more about the full line of BROEN Ballomax ball valves by contacting us at sales@groebner.com today. We're proud to represent this industry-leading company and can help you understand how BROEN can help you offer top-of-the-line service to your customers.