PA12 is designed for pressures up to 250 psi and provides the benefits, cost savings, and flexibility of plastic pipe over traditional steel pipelines.

There is a new type of thermoplastic pipe material for use in the natural gas industry, up to 250 psi … take a look!
In the past, steel has been the only viable option for high-pressure natural gas piping with pressure above 125 psi. Not anymore! Now there is a proven, PHMSA-approved alternative – Evonik's VESTAMID® NRG 2101, yellow, polyamide 12 (PA12), thermoplastic pipe material. PA12 is designed for pressures up to 250 psi and provides the benefits, cost savings, and flexibility of plastic pipe over traditional steel pipelines.
Tested and PHMSA Approved Technology
VESTAMID NRG 2101 is a polyamide 12 (PA12) material, which has been used for more than 15 years in natural gas distribution networks world-wide – a proven success. VESTAMID NRG compounds have been developed specifically to fit the needs of the oil and gas industry.
PA12 has been approved by PHMSA. That means pipelines can be installed without any special permissions or waivers in the US. The new butt fusion standard (F3372) procedures and inspection criteria were developed to ensure quality and safe installation.
Looking towards the future, PA12 pipes are also H2-Ready. The Gas Technology Institute (DBI-GTI) in Germany has tested pipes made of VESTAMID NRG for gas distribution for their use in transporting hydrogen and has authorized Evonik to give such pipes the H2-Ready quality mark. They are hydrogen-suitable for 100 percent by volume in natural gas.
PA12 Product Properties
Evonik's high-performance polymers are revolutionizing natural gas distribution and transmission lines. The PA12 compound VESTAMID NRG 2101 offers high impact strength (2x higher than HDPE) and exceptional resistance to stress cracking and chemicals.
PA12's thermoplastic pipe material advantages:
More usage applications

 – because of higher pressures (up to 250 psi), tougher material, and H2-Ready
Less damage on site and during installation – as it is stiffer and stronger
Increased safety when exposed to chemicals and heavy hydrocarbons – due to extreme resistance (no hydrocarbon permeation – benzene, toluene, xylene) PA12 keeps its molecular structure and does not react to harsh environmental conditions
Longer design life – as it resists failure due to slow crack growth and rapid crack propagation
Extruded in diameters ranging from 1 to 6 inches, VESTAMID NRG PA12 pipes can be manufactured in lengths of 40 feet as straight pipe to 500 feet in coils, depending on the diameter and wall thickness. This flexibility in length saves money by reducing time spent fusing pipe ends together.
Competing with Steel – PA12 Benefits
There are many benefits to using PA12 rather than steel for your high-pressure pipelines. VESTAMID NRG's superior performance makes it the perfect choice for expanding your natural gas pipeline network or replacing dated or damaged steel in your current network. Its capabilities to handle higher pressures allows you to extend or repair your lines in a cost-effective manner.
VESTAMID NRG PA12 offers:
No corrosion – you won't pay for cathodic protection, steel inspection/maintenance, or other corrosion expenses
Less roughness – smoother profile means greater flow through and energy efficiency
Lighter and easier to handle / transport – lowers installation costs with smaller construction crews, reduces need for welding, and offers shorter installation times
Savings you could achieve by using PA12 vs. steel: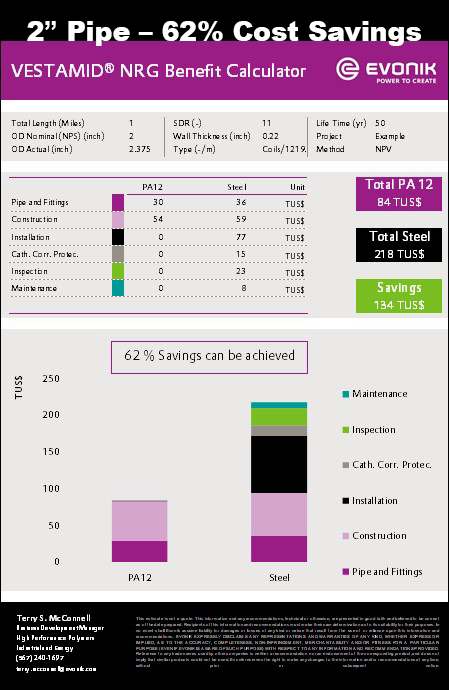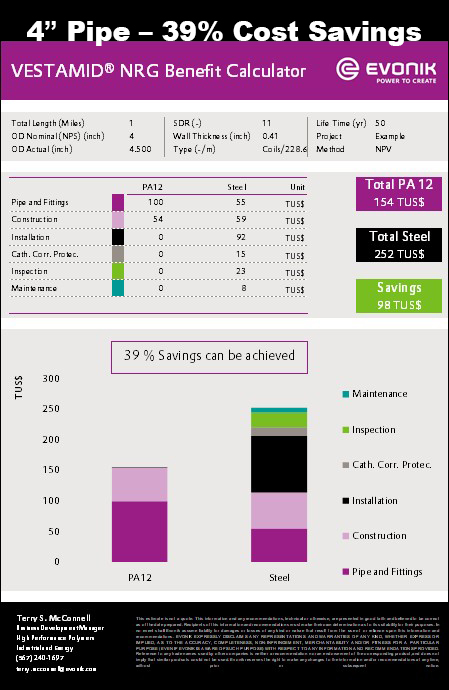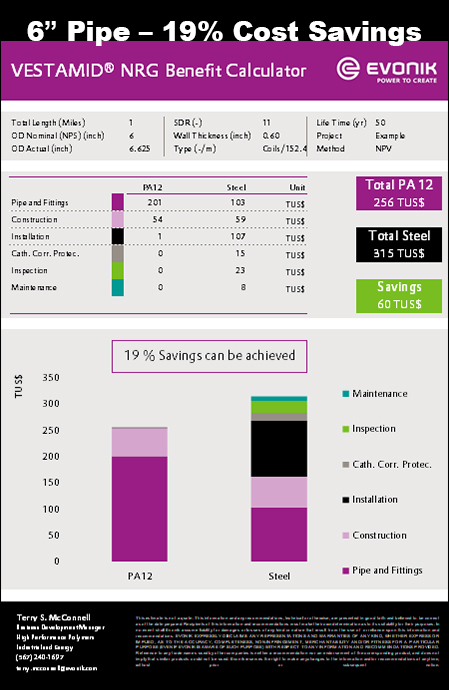 Installation / Joining Advantages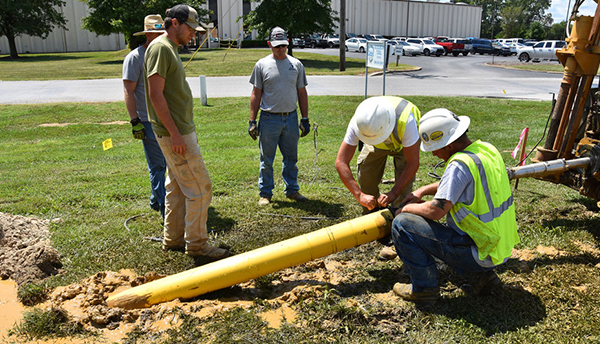 Steel requires field joint coating, sand bedding, and cathodic protection to perform at its peak for natural gas transport. VESTAMID NRG PA12 doesn't require any of these processes. The installation methods used for PA12 are identical to PE installation. You can use the same machines and procedures as PE for fast joining in your pipeline. PA12 can be joined using both butt fusion and electrofusion. Your PE installation team won't need to learn a whole new process – they'll be up and running just as before.
VESTAMID NRG PA12 pipe can be installed in any way that PE pipe can be laid. But because of its strength and stiffness, it is a perfect candidate for the use of horizonal directional drilling (HDD). Because PA12's superior properties (hardness and tensile strength), it is ideal for longer pulls in the toughest soil conditions. HDD is a preferred method of pipeline installation because there is no need to uproot/tear up surfaces to install.
Complete Set of Fittings Available in PA12

To accompany the VESTAMID NRG pipe, a complete set of butt fusion and electrofusion fittings made of the PA12 material are available. We have everything you need for the complete installation today. Take a look at a sampling of our offerings in the shop area of our website – https:/www.groebner.com/category/high-pressure-plastic-pipe-and-fittings
VESTAMID NRG 2101 / PA12 Pipe, The High-Pressure Pipeline Choice
PA12 offers you the ability to design and build your pipeline system with a more cost-effective solution over steel. Its ability to be installed with the ease of standard PE equipment and methods mean you can start using it with no special training or equipment costs. And VESTAMID NRG has all the fittings you need for either butt fusion or electrofusion. That makes VESTAMID NRG 2101 the best choice for high value and excellent safety in your natural gas distribution infrastructure. Contact us at GROEBNER today at sales@groebner.com to learn more details about PA12 and why it won the 2020 PPI Project of the Year award.
Additional PA12 pipe and fitting information can be found here on our website: https:/www.groebner.com/category/high-pressure-plastic-pipe-and-fittings