Safety and overpressure protection for abnormal meter set installations.

Pietro Fiorentini (PF), a manufacturer with more than 80 years in the energy industry, offers a series of FE regulators that are safe, accurate, and provide installation advantages for Abnormal Operating Conditions (AOC). Take a look at what the FE and FEX regulators have to offer.
Protect Against Both Over and Under Pressure with SafeGate Technology
PF regulators have a proven track record of meeting the toughest regulator needs. They incorporate PF's SafeGateTM Technology, a built-in safety feature to protect against both over and under pressure on the regulator. With SafeGate, the main diaphragm is doubled, as a redundant back-up. It also includes a vent limiter inside the regulator, which limits the gas flow, in case of diaphragm failure. Finally, the SafeGate technology used in PF regulators includes a slam-shut valve for over pressure protection.
Installation Advantages for Abnormal Meter Sets
PF's FE and FEX series are the top solution for abnormal operating conditions. They meet the updated NFPA 54 standard regarding 3 feet of clearance needed from windows, doors, and ignition sources. Ability to be installed indoors, multiple connection configurations, and compact connections allow for flexible installations. The FE and FEX are designed with unique features that provide gas utilities solutions for unsafe and potentially costly set conditions.
Benefits to Two-Stage Pressure Regulators
Utilizing the two-step pressure reduction in the FE and FEX regulators adds safety and accuracy to a utility's natural gas system.
Safety: In case of failure of the second stage, the first stage acts as a regulator to limit the pressure at the outlet; the over pressure shut-off device is a further safety feature.
Accuracy: The balanced first stage regulation limits the pressure variation to the second stage, so it is possible to reach high accuracy of the regulated outlet pressure.
FE Series Regulators
FE Regulator
The FE is a Lever Acting regulator primarily intended for residential applications.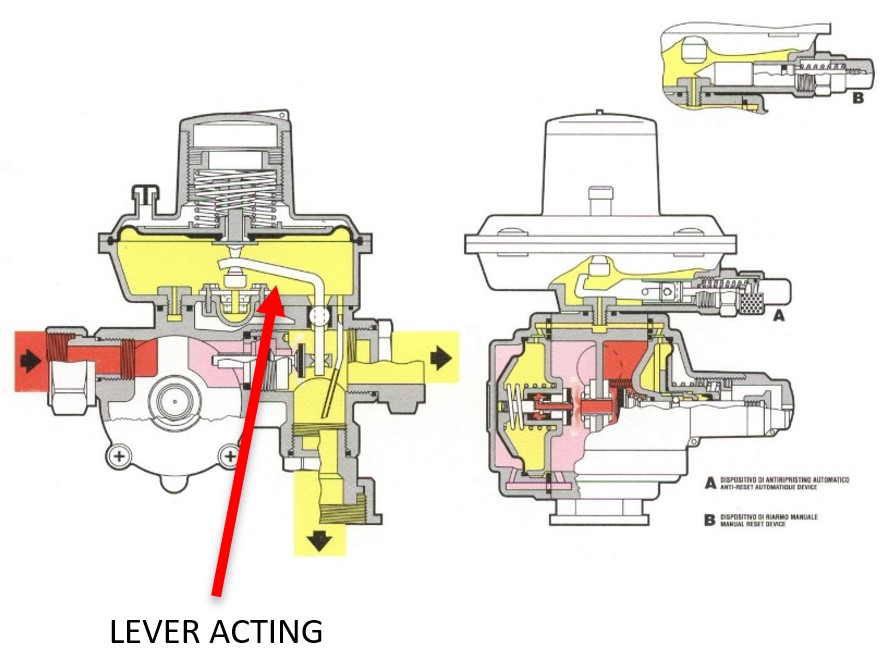 FEX Regulator
The FEX is a Direct Acting regulator primarily intended for commercial applications.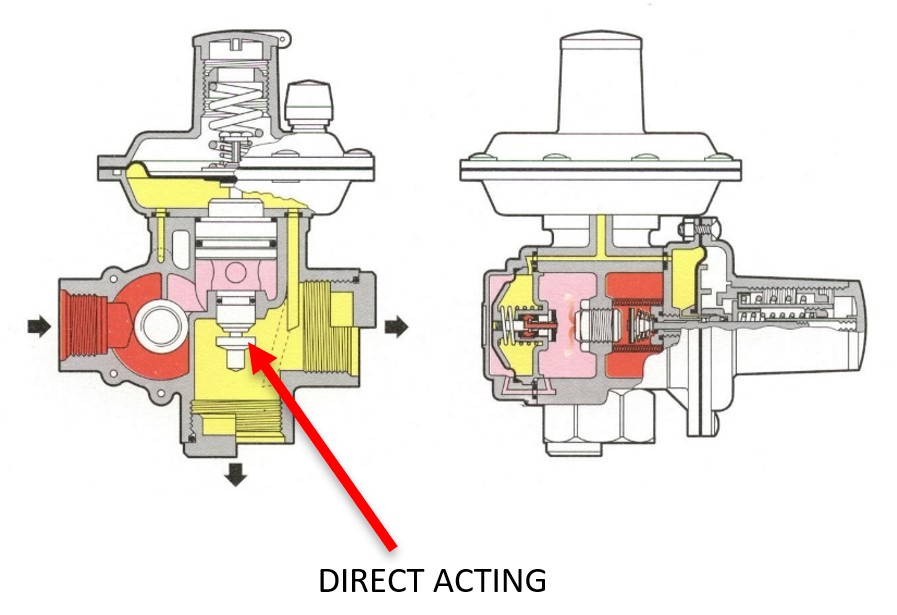 Model 
Normal Capacity
SCFH
Minimum Inlet Pressure
PSI
FE25
875
4
FEX
3,500
7.5
Main Features 
  
Pipe Size
Inlet Pressure Range
2.2 - 125 psi
3/4 x 3/4
Max Allowable Pressure
PS: 125 psi
3/4 x 1
Outlet Pressure Range
BP: 5.2" wc - 2.6 psi
TR: 2.6 psi - 7.5 psi
1
Over Pressure Shut-off Setting Range
BP: 14" wc - 4.3 psi
TR: 4.3 psi - 11.6 psi
1 x 1-1/4
1 x 1-1/2
Accuracy Class
up to AC5
1-1/4 x 2
Lock Up Pressure Class
up to GS10
2 x 2
Operating Temperature
-4° F / 140° F
-40° F / 140° F
 
Regulator features and options:
Inlet Strainer
Single Orifice – meets MAOP up to 125 PSI
Token Relief Valve – minimal discharge to atmosphere
Dual Diaphragm
Inlet and Outlet Pressure Tap Option
One or Two Outlets
External Vent Limiter
Uni-vent Option
Anti-Flooding Option
H2 Ready (Hydrogen blend)
Safety features and options:
FE is ANSI B109.4 / CSA 6.18 Certified
Two Stage Regulation and Balanced Valve for Accuracy and Safety
Internal Safety Diaphragm with Vent Limiter
Safety Shutoff Options

Over Pressure
Under Pressure
Excess Flow
Thermal
Learn how PF regulators can meet your precise needs by speaking with one of GROEBNER's sales team today – 800-638-8322.